Holiday Horse Camps & Farm Camps
Details
Our Western style horseback riding camps are back!  See our schedule for Mardi Gras, Spring Break & Summer Camp below!    Thank you, Philly.com for naming Splendor Farms in Bush, Louisiana as the "coolest camp" in Louisiana!       HOLIDAY...
Read more
Our Western style horseback riding camps are back!  See our schedule for 

Mardi Gras

,

Spring Break

&

Summer Camp

below!
   Thank you, Philly.com for naming Splendor Farms in Bush, Louisiana as the "coolest camp" in Louisiana!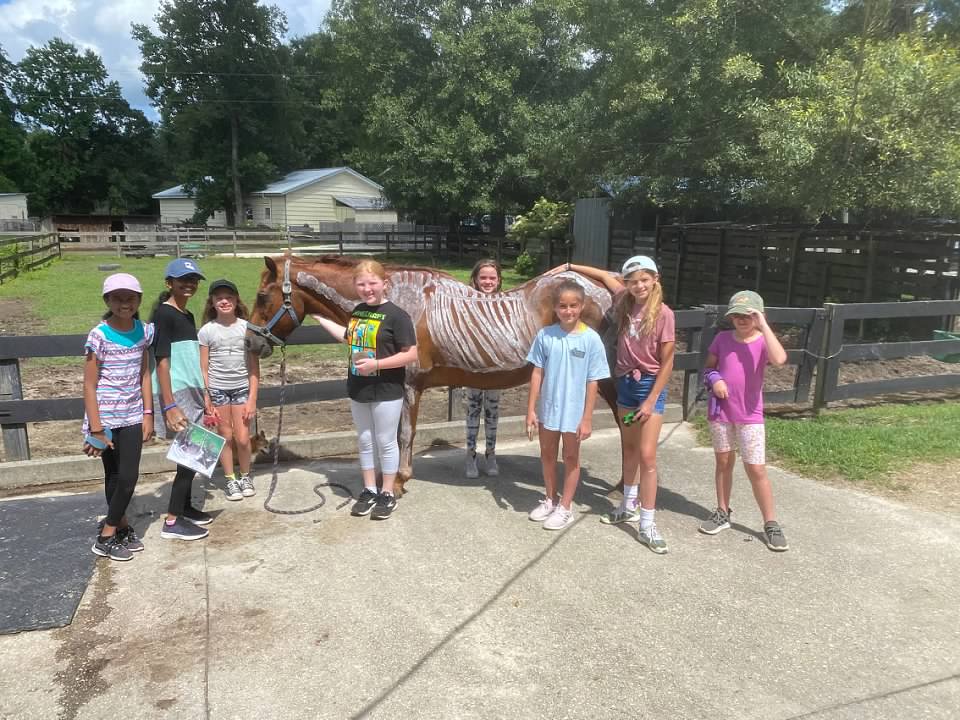 HOLIDAY CAMP SCHEDULE 2022


MARDI GRAS CAMP 2022 - (5 spaces available)
February 27th - March 1st
Arrive: Sunday noon
Pick up: Tuesday 3 p.m.
(Riding program/parade at 2 p.m. - After care available)
Limited to 6 girls - ages 10 and up
Registration fee: $35.00 - Tuition: $275.00
Contact Us for details and to register
SPRING BREAK CAMP 2022 - DATES T/B/D
This is a great opportunity to refresh horsemanship skills and to get a "leg up" before Summer Camp starts!! Also great for counselors wanting to get reacquainted with the farm. 
Contact Us for details and/or to reserve a spot.
Arrive the day of camp  with your boots on and let's go riding! Sleepover in the bunkhouse and get up to feed your horse and do farm chores. After feeding the horses, goats, chickens, and sheep, it's time for breakfast and then let's ride some more!

Splendor Farms is a "girls only" horse & farm camp created out of my love of animals and desire to share my farm with "city," "horse crazy," and "I want to be a vet when I grow up" girls. Our camps are designed to give girls an opportunity to learn self-confidence and teamwork, along with western horsemanship through hands-on instruction on a real working farm.
They will learn the basics of horsemanship through daily grooming, saddling, riding lessons, and trail riding, plus enjoy many other farm activities including a rodeo and horse games,

Check out the Shutterfly Image Gallery for our fun Horse & Farm Camp Photos!
 

Please Note: Overnight camps are limited to 6 girls and Day Camps are limited to 6 to 8 Girls. Our holiday camps are for girls ages 10 and up, who are mature enough to spend the night (or two) away from home.
Before and aftercare is available.  We provide Breakfast/Dinner and your camper's helmets/tack/horse.  Each camper will need to bring their own lunch (no microwaveable meals) and this NEEDS LIST.
Orientation begins at 9:00 a.m. on the first day of camp and usually lasts about 30 minutes. Please do not be late. We need to start on time so those who need to get to work/class are not delayed. Before and aftercare is available.
Our camp counselors are some of the best around and each counselor is CPR certified and has many years of camp and equine experience.
Safety Information

This is a must-read as you agree to these terms when you register ~
We strive to run safe trips. All guests should realize the inherent dangers in horseback riding and other outdoor activities.
They should be in good physical condition. Each guest will be required to sign an "Agreement to Participate and An Affirmation of Risk" (see waiver form below). Guests under the age of eighteen will need a parent's signature on the agreement. Only parents and legal guardians can sign these forms. If you are bringing your kid's friends, these forms can be downloaded from our website in advance of your stay/ride so their parent/guardian can sign the waiver and date it the day(s) they will be here.

We ride Western. All of the rides are guided. We do not allow double riding. Children must wear helmets, which we provide. Riders with no experience are welcome!

Please Note: Persons over 250 pounds are not able to be adequately accommodated due to saddle size, their comfort, and the comfort of our horses. We hope you understand that for the safety, comfort, and well being of everyone involved that we cannot allow persons over 250 pounds to ride with us.
Please read our full Horse Riding Rules and Policies Page as you agree to these terms by signing up and it is critical you understand everything and ask questions prior to coming out.